What or who are Cruiseanostra ?
Short answer. Cruiseanostra are a cruising game Community. But let me explain a little more…
Today, there are a lot of car games, Offroad, Rally, Race simulation and Arcade Racers. The one thing these games have in common is that its all about races or scoring points. Beating each other to see who is the best. Its not really about working together as a team. But Cruiseanostra are a team.
Cruiseanostra are oriented more towards having fun together and not beating each other. We like to drive together in games with large maps and have the freedom to drive when and where we want.
Unfortunately, there are not many Games around that you can actually do that. Most games only have set courses or circuits and if they do have open maps the map is to small. Also there is the requirment to be able to play online with others in groups.
If you put all this together there are very few games left that we can actually play. Games like Test Drive I and II and The Crew are games we like to play. Even these games are not perfect for us.
So we made this Homepage to come together and talk about games that fit our needs and to promote our ideas about a new genre of Car Game. A game with a huge map or maps and the freedom to drive where you want and the ability to tune your car. Maybe even having a nice house to invite your friends to for a party. The perfect Cruising game.
Join the Cruiseanostra ?
So would you like to drive around in a big online world? Do you like playing together with others and not racing each other? Then Join Cruiseanostra and together we will find and fight for our dream game.
You can Register in our Forum, called The Cyber Diner
The Cruiseanostra Team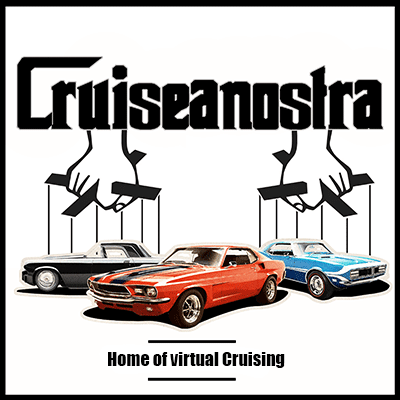 Visits: 613